Moody and serious – it's monochrome time!  Laura shared an image on her instagram stories a few months ago that really stuck with me.  Just a simple, striking portrait…and we wanted to try to recreate it.  While the inspiration for these images is black and white, I wanted to create the same feel in color.  Laura even had the perfect model – her pup Audrey.  Audrey really was the most well behaved pup and she's just a gorgeous dog.  So grateful to have them spend some time in the studio, even though Audrey could not figure out her footing on our smooth floors.   The paper backdrop was even more slippery, so we pulled in a rug to give her a little traction.
Monochrome Photography Set
Each month we'll share a fun set to show off how you can use the items available at our studio to create something completely different.  Each inspiration set will have ideas for both professional and casual photos.  You can pull ideas from it for your own unique session, or if you like this exact set, just let us know and we'll have it set up and ready for your studio rental!
The Professional Look
For this set, we wanted strictly black and white furniture and props.  Laura has this great vintage vibe, and we actually met at one of our film photography workshops.  So I raided the darkroom for a few fun things to add to our set, including a pair of prints from a local artist who creates work using a polaroid then soaking the images off onto paper.  They are one of my favorite little pieces of art that we've found for the studio (though if you look around, you'll find tons of other local pieces, which you are welcome to use in any session)! I very much wanted this to feel like photographer and editor, working together on a project.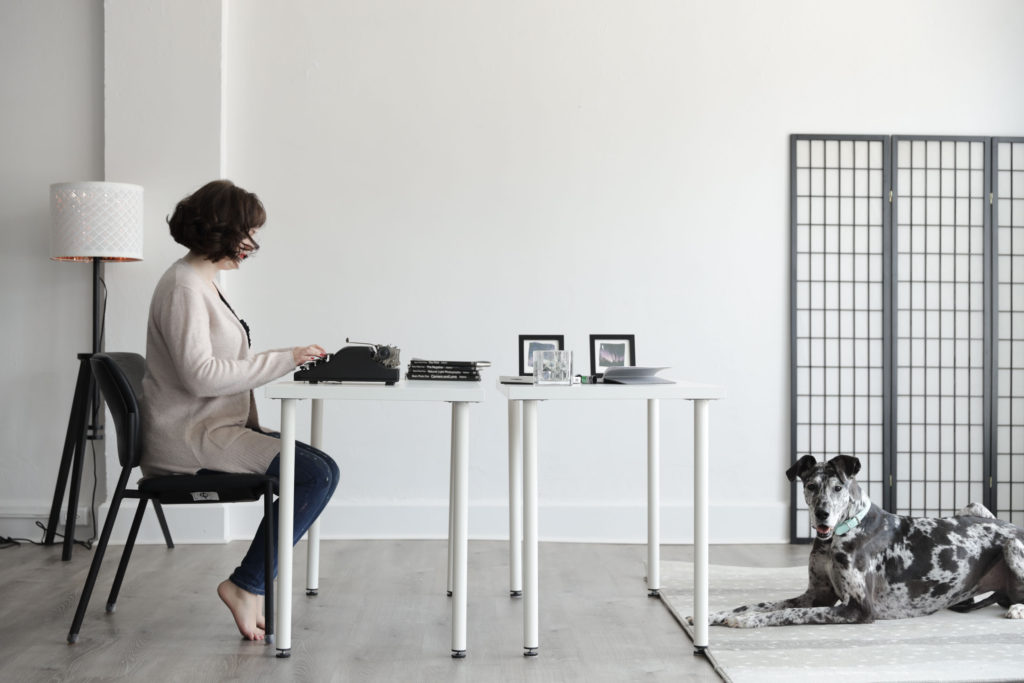 Our inspiration photo was based on an image using a plain black backdrop. I'm loving the drama in these.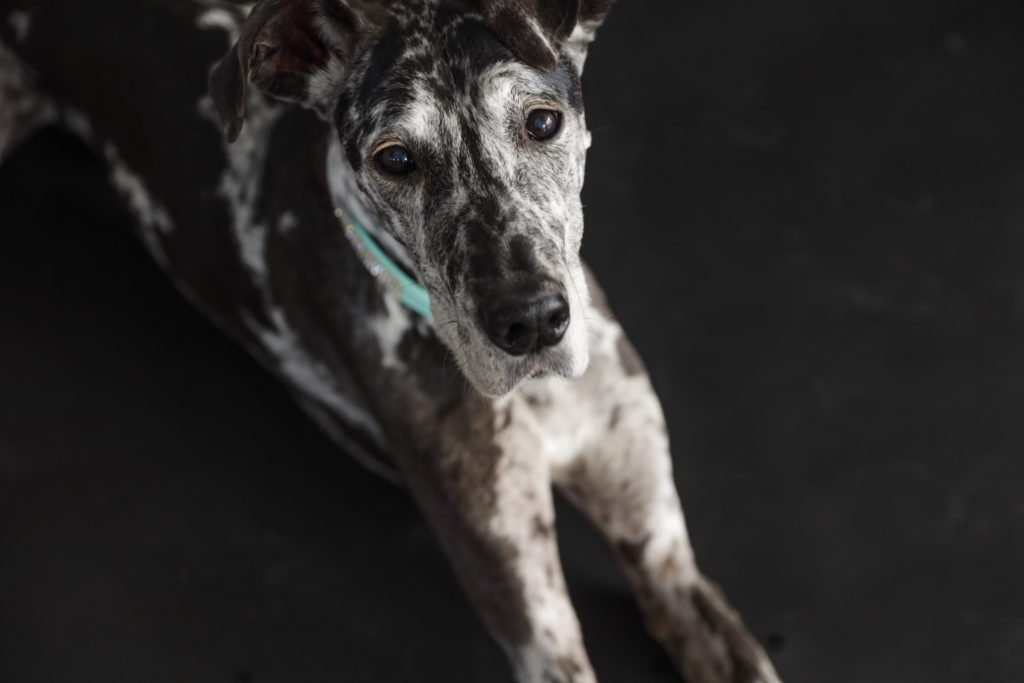 The Casual Look
For our casual look, we weren't as strict with the monochromatic theme.  Audrey decided that the green couch was her favorite spot, so we had her just do what was natural: chill on the couch.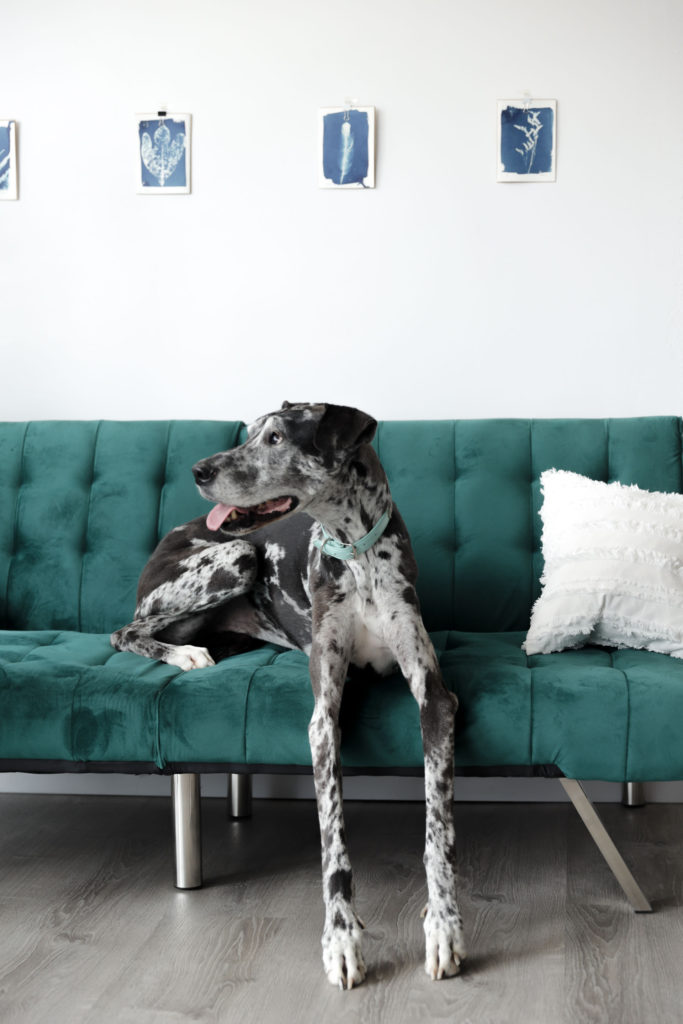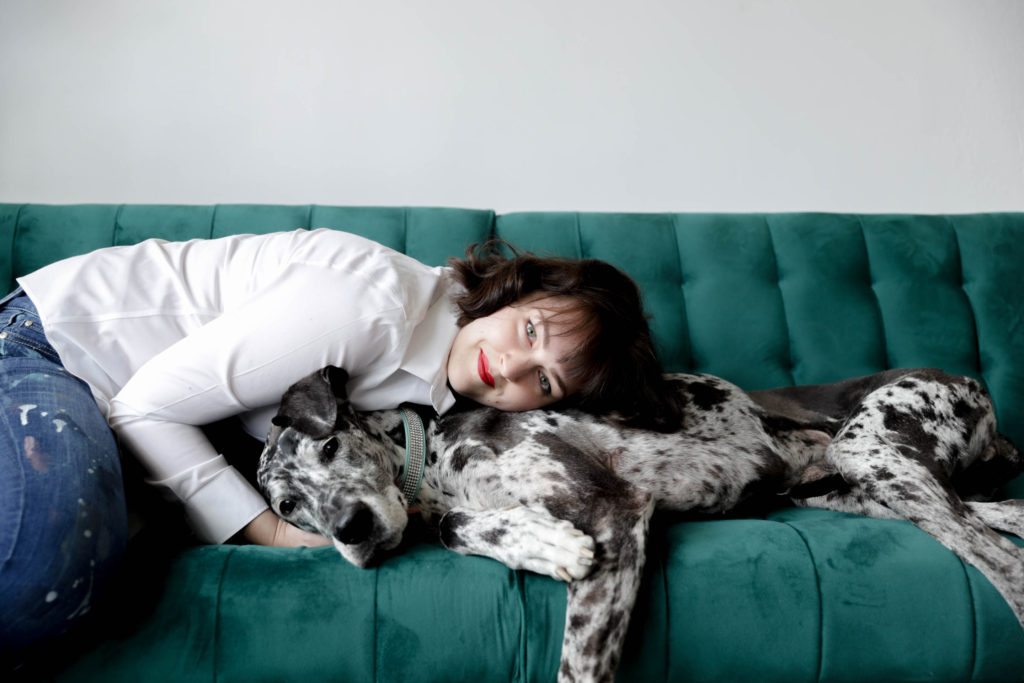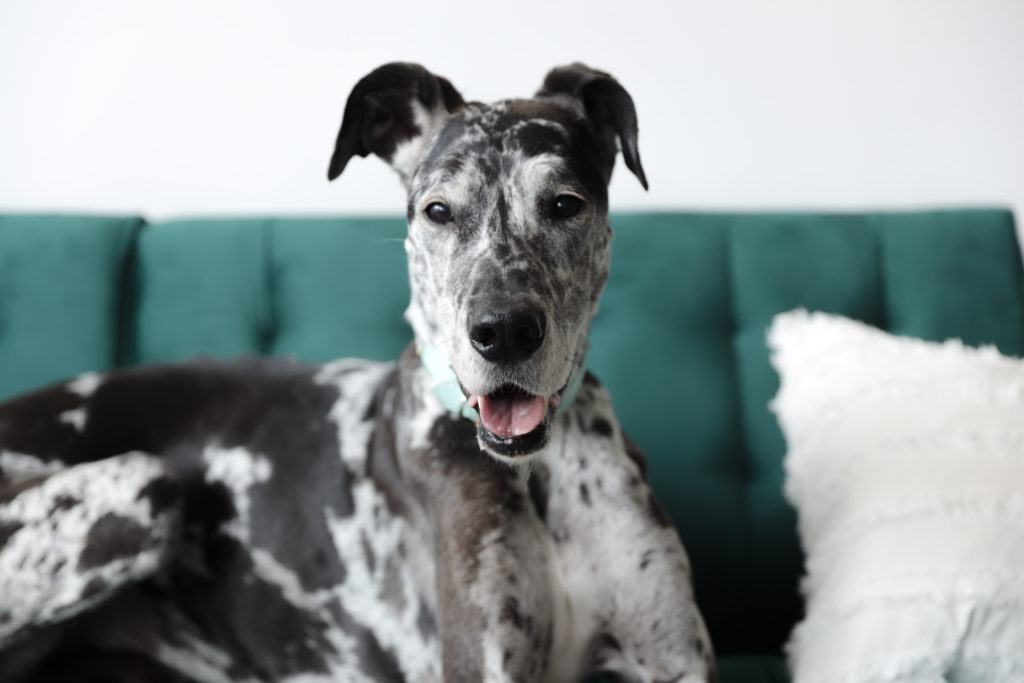 Every once in awhile we get asked if we allow pets into the studio.  I always leave it up to the photographer. Some may not want the extra liability or stress that comes along with working with pets (or even small children, lol).  It's not something I would personally offer to just anyone, but I knew in advance that Audrey really is the very best girl and she was a model studio guest in every way!
We do ask that they be leashed or under the control of their owners at all times.  We kinda feel like pets, just like children, have the potential to be destructive.  It falls to the grownups to be sure that doesn't happen, and of course, take responsibility if anything does happen.  We've made our space durable and easy to clean to make things easy on you.  We also have a pretty reasonable policy on wear, tear, and breakage of things.  Being an old building, we expect that things will sometimes break.  We just ask that you let us know right away, and if the damage is due to negligence, you make it right.
We do (of course) prohibit a couple of things that could permanently damage our space or make it unfriendly to others, and we're always happy to let you read through our terms and do a walk through of the space before renting to be sure it's a good fit for you.
Book a Session at the 304 Collective.
If you're ready to book some time for your next session here at the 304 Collective, drop us a line!  Our weekends book up rather quickly (especially during the cold and rainy seasons) to get your date on the calendar today.  You can use these photo set, one of the others, or use our space to create something entirely new and original!
Hope to see you soon!