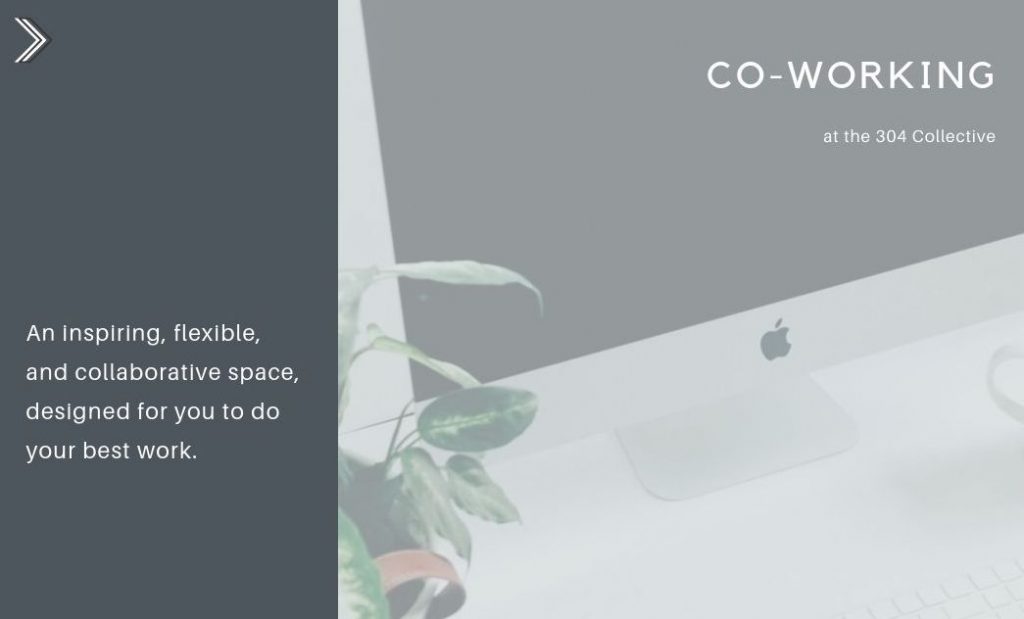 We're so excited that we're now able to share our space on a full-time basis with other creatives, freelancers, and small business owners for co-working!
Life as a freelancer/working from home can feel lonely or aimless. We created a professional, flexible office space and studio for the mobile worker to get plugged in. We offer a lounge area, perfect for meeting with clients or a casual work day, shared tabled space for collaboration, and desks for when you need to focus and get things done.
It is our hope that this space will become your new office, a workplace to focus, connect with others, and most of all, grow your business!



All co-working memberships come with complimentary water, coffee, and tea.
Co-Working Membership at the 304 Collective
The annual pass, in addition to a great place to work every weekday, gives you 50% off of daily studio rentals, podcast room, or workshop space…making it perfect for photographers and makers who also want space to host sessions or workshops throughout the year.  The annual pass is the best bargain for those who are local and will come work frequently, and can be paid all at once, or in autopay monthly installments! Prices start at $150 a month for those who are ready for an annual commitment, or $200 a month for those who need a more short term solution. Custom packages to include storage space are available. We do have an application process and background check requirements.  Contact Rebecca for more information.
How To Use Your Co-Working Membership
Our studio is a shared collaborative space. On any given day, there will likely be others in the space, doing their own thing.  To make this work, we generally differ to studio events that are on the calendar.  This may be a photo session or workshop in the main studio space, or a podcast recording in the pod.  Some photo sessions may require more privacy (we set up screens).  Audio recording may require periods of quiet or that the HVAC be turned off.
To keep everyone working at their best, we've created different spaces that are flexible and can be used for co-working.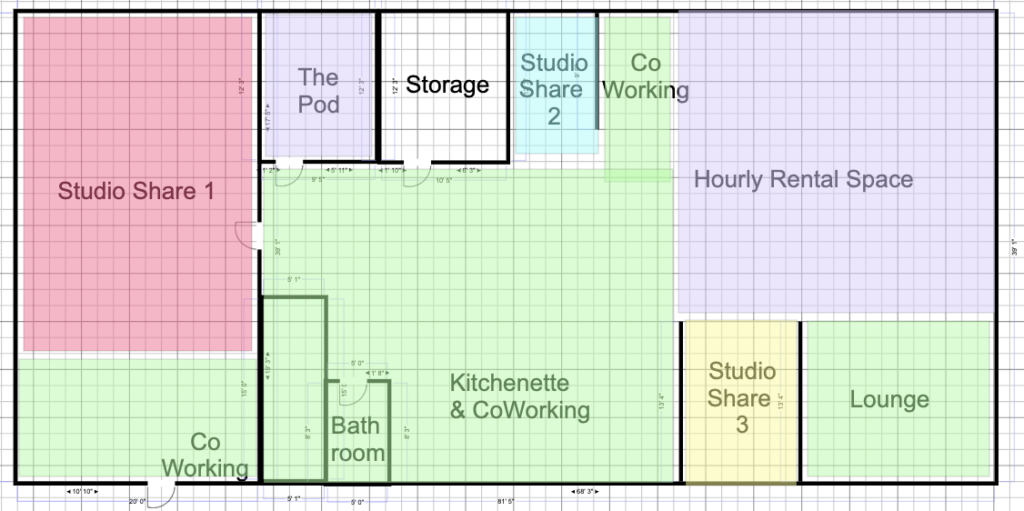 All of the green spaces on our floorplan are available for co-working.  We also encourage that when the Pod is not in use, anyone who needs a quiet, private space to work is welcome to hop in there and use it.  So if a photo session is happening in our hourly rental space, and you need something a little more quiet or just prefer to be more distant/separated from the action, then the Pod or the desk in the loft will be perfect for you.  If a podcast is being recorded, then working in the lounge might be better for that phone call or client meeting.
Our calendar is shared online, so you can easily see what's happening in our space on any given day.
We also limit our memberships to that we will never have too many people using the space at the same time.  Our intention is never to be exclusive of others, but to allow those who do work here the time and space they need to do their best work.
What Is and Isn't Included in the Co-Working Membership
With the many uses of our space, it can sometimes be confusing as to what is and isn't allowed with your membership.  This is a short list of work activities and where they might fall on the spectrum of what is included with your co-working membership, and what things may require an extra rental of space.  We try to be flexible, so these are general guidelines.  If in doubt, just ask.  🙂
Included in Co-Working
Daily Work Tasks at your computer.
Meetings with clients.
Meetings with your team.
Photo and Video of your own social media content (outside of the hourly rental space).
Participating or leading Zoom calls or meetings
Assembling products, gifts, supplies.
Not Included in Co-Working
Most photo or video sessions where you hire a photographer/videographer, are hired by clients, or model calls within the space.  Most of these will require an hourly space rental.
Workshops, classes, styled shoots.  These will require an hourly space rental.
Co-Working with a friend that does not have a membership.  Your friend will need a membership to work here, unless it is a collaborative project under your brand.  While we still aren't doing drop in co-working we make an exception for members who are looking to bring a friend.
Recording a podcast or video.  This will require a rental of the Pod or the Hourly Rental space.
Use of the darkroom.
Leaving an office, set, or gear set up for extended periods while you are not here working.  Obviously, this doesn't exclude stepping out for lunch, a quick errand, or a same day meeting….and sometimes we are able to accommodate other requests.  Usually those who need designated workspaces to be set up for extended periods will need to talk about a Studio Share space.
Events. While we do not rent space for personal events like weddings or birthday parties, we love hosting professional events within the space.  Most of these will require an hourly space rental.
Drop In CoWorking
We are currently not open for drop in Co-Working.   We are still accepting a limited number of Memberships, and our studio is still available for hourly rental.  Please contact us for more information. 
If you'd like to keep up to date with everything going on at the 304 Collective, sign up for our mailing list!  I'll reach out a couple of times a month with news on our co-working spaces, studio share opportunities, fun workshops, and of course, everything you need to know to get the very best video for your business!