Along with all the heat of summer, our August styled set is here: Desert.  For this set we use a warm neutral color palette, soft lines, and a handful of details to create a brand new look for our space.
The Details
Almost everything in our styled sets are available for you to use and included with your studio rental.  We sometimes add a handful of details to personalize the look.  Often if you see a planner, notebook, or cell phone in our images, those are personal items that may not be available for (but ask if you love them, sometimes we do just have them sitting around). The cork boxes, letterboards, and sand hourglasses live at the studio.  And if I haven't recommended Bird by Bird to you yet, then we probably haven't had a conversation longer than 5 minutes about perfectionism and the creative process.  The blankets and notebooks (along with the Euphorbia cactus) live at my house.



Transform the Sofa
Earlier this summer I swapped out our original mid-century sofa for our new green velvet one.  Almost immediately I realized that left us with no neutral seating options for multiple people/families.  To solve that, I added the bench featured in last month's NATURE set.
Part of the reason that we selected this particular green sofa is that it easily transforms into a bed.  Often our branding, boudoir, and family photographers would bring and set up an air mattress (you're still welcome to do this) which is added work on their part, so we wanted a piece that was multi-functional.  It's also more firm than an air mattress, so we find it easier to pose and sit on.
It's also SUPER easy to transform the color and look of it by throwing a sheet, blanket, or cover over it.  For this look, we used a simple canvas dropcloth.
When renting the space for a bed set up, we ask that photographers/stylists bring their own bedding.  However, we always have a few white sheets, canvas cloths, and a few other things that can be used to transform the look in a pinch.



New Arch Backdrops
Arches are in, and we added a few to our studio panels.  This has been on the bucket list for quite awhile, and it took some figuring on how to make it happen.  We wanted something that would easily lay flat for storage so that we don't accumulate too much studio clutter.  Light enough to easily move around, sturdy enough for regular use.  If you're looking for a way to add some personality to a blank space, our studio flats do the trick.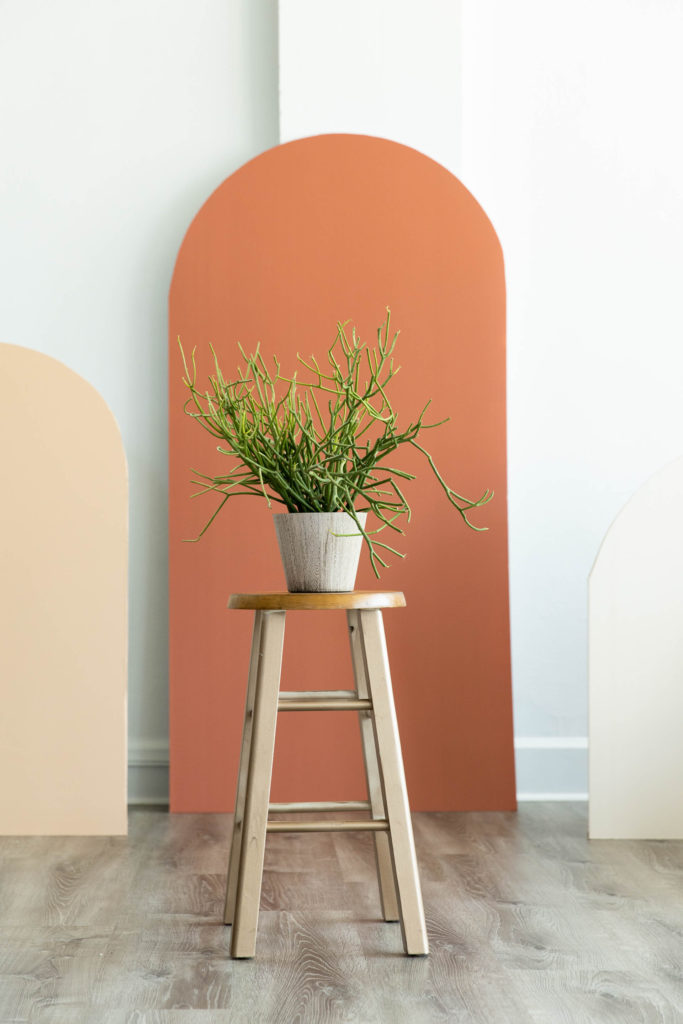 PeerSpace Studio Rental
Last month we also switched our bookings fully over to Peerspace.  Peerspace is a peer-to-peer marketplace for booking space for events, meetings and productions, and it has really streamlined our booking process.  In just a few simple clicks, you can check to see if the studio is available and reserve your time with us.  If you'd like to see how the process works, we shared a video walkthrough over on Instagram of the process of booking with us.