The 304 Collective is a collaborate, shared workspace located in Fairmont WV.  Our natural light space is well designed for use by photographers and videographers, but is also works well for workshops, classes, and is used by many types of creatives and small business owners. We have several different options on how to use the space, and we're always excited to talk with new people about how they see themselves working and growing their businesses here.
Hourly Studio Rental
One of our most frequently asked questions is "Do I need a membership to rent the space?"  No.  Our hourly and daily studio space rentals are open to any professional!  From photo or video sessions to podcasts to classes and workshops, our hourly rentals provide the perfect space for those who need it.  Bring what you need, use our space as your own, and leave it as you found it.  Booking studio time is simple through our Peerspace site. Whether it's just one time, or you rent space on a regular, recurring basis, we're happy to have you here.
Co-Working Memberships
Our next level of use would be our co-working memberships.  Our co-working members have access to the space 24/7 for coworking purposes, read only access to the studio calendar, and discounted rentals of space for uses outside of co-working.
Our co-working members also benefit for extra flexibility with last minute scheduling and have options for storage space if needed.  Since our co-working members frequently spend time here they usually get the inside scoop and are the first to know about upcoming additions and fun new things around the studio.
We also allow Co-Working members to use our address as their brick and mortar location for SEO and mailing purposes.


Studio Share Members
Our highest tier of membership is are Studio Share Memberships.  Our studio share members have 24/7 access to the space.  They also have a designated area in the building to set up as they wish, designated space in our secure storage area, and allotted time in either our Hourly Rental Studio or the Pod, along with write access to our shared calendar so that they can schedule their own time quickly and easily.  Should they have a busy month and need more time than covered, any extra time can be instantly reserved at 50% of our published pricing.
Since our studio share members have a vested interested in the space, we often consult them when thinking about any changes, improvements, new props or shared gear for the space.  They have total freedom to do as they wish with their time and space, and get the inside track on making our studio a better place for everyone to work.
Our Studio Share members also use our address as their brick and mortar location and have options for outdoor signage at our location.
We only have 3 Studio Share spaces in the building (one currently available).  This allows us to give everyone the time and space they need to keep creating and keep our space from feeling crowded. Currently Studio Share 1 is occupied by MotionWorks Wedding Films (and the video side of 304 Collective), Studio Share 2 is occupied by Melissa Rosic Photography, and studio 3 is available.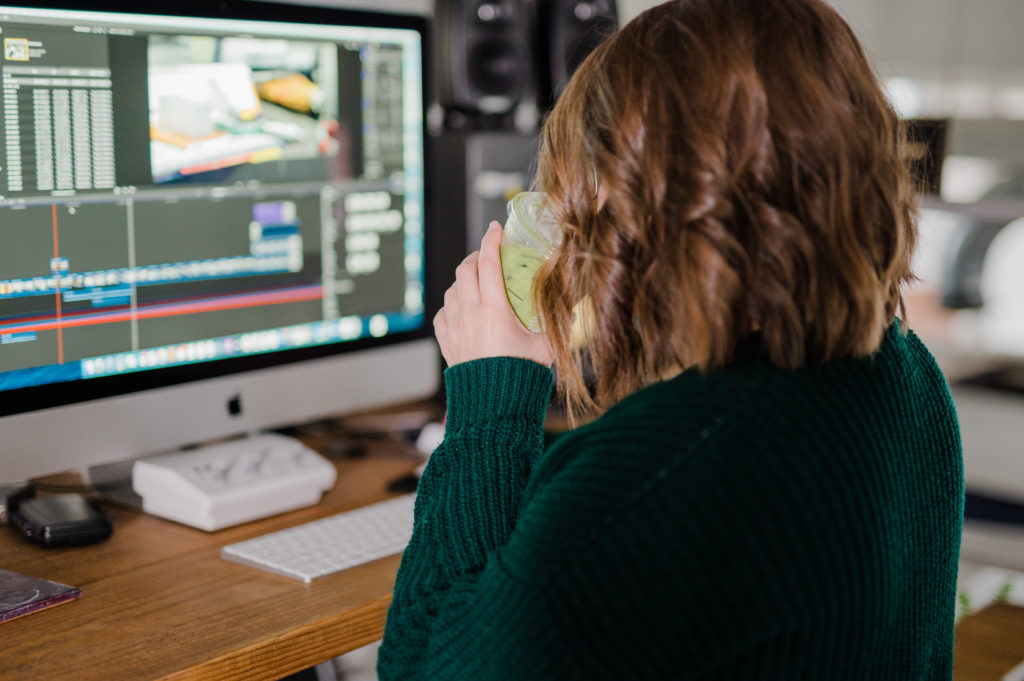 How Does Shared Space Really Work?
This is the other question we frequently get asked about those not familiar with our space.  Collaborate flex space is a new concept, and for some, it's hard to understand why they do not have the entire space all to themselves when renting the space.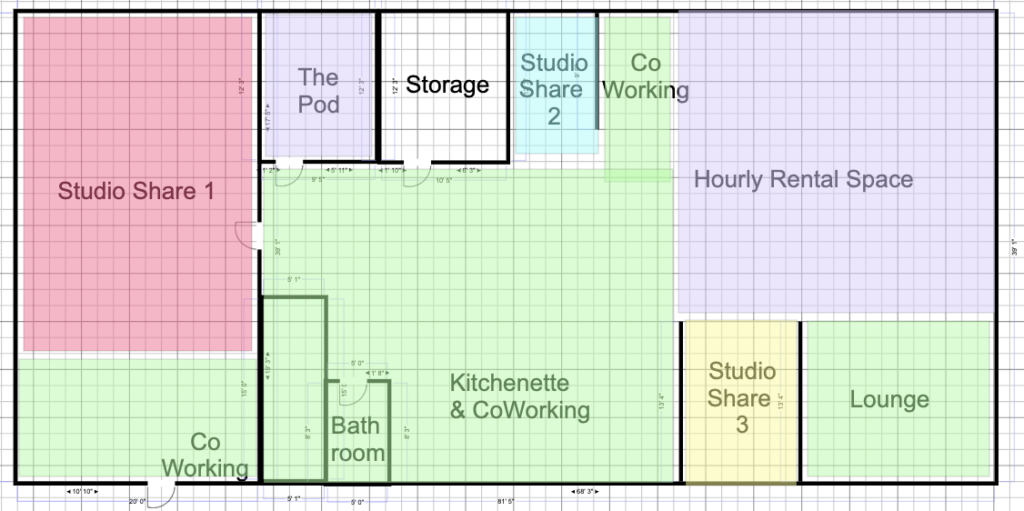 We've put together this little floor plan of the space to better illustrate the many different uses and things to expect. Purple indicates our hourly rental spaces, green are spaces available to everyone (including co-working members) and Studio Shares are indicated.
So when you are using the Hourly Rental Space or Pod (either as a one time reservation, or as a member using your alloted time) you will be the only person using the purple space.  However, there may be other studio share members using their own spaces (pink, blue, and yellow) or co-workers using the green spaces.  We differ to events on the calendar.  This means that if you reserve the space for a photo session, everyone else gives you the space to make it happen.  Sometimes this means setting up screens or partitions for total privacy (boudoir or nursing shoots).  We avoid the space you're using so that your clients aren't distracted. Sometimes this means that the HVAC will be off and it might be slightly warmer or cooler than our usual 72 degrees.  Sometimes the rest of us will need to be cautious with our noise so that those recording in the Pod can capture clean audio.  Our members are used to working around scheduled activities and everything that comes along with it.
But it doesn't mean that you have the building all to yourself.  In fact, one of us is always present during our hourly/daily rentals (usually working in the loft or darkroom) just in case you need anything.
This type of space isn't for everyone, and I'm always happy to refer you to other local spaces that may be a better fit, or let you know of any other properties that you might be a good space for private long term rentals.
If you'd like to set up a time to visit the studio and talk about memberships, rentals, and how our studio can work for you, reach out to Rebecca. You can also join our 304 Collective email list to be the first to know about new sets, opening, and studio news!