Pinterest now matches with Instagram for referrals on my wedding brand.  What's more, those referrals are spending more time on my site and converting to clients at a slightly higher percentage than Instagram.  I wanted to share my workflow tips on how to add Pinterest to your marketing plan.
These are all entirely organic recommendations – I know very little about placing ads on Pinterest, so you won't find that information here.  This is all about establishing your Pinterest account and getting your content out there.
First, we need to rethink how we see Pinterest.  Pinterest is NOT another social media channel, it is a search engine.  A powerfully optimized search engine.  If you're a wedding professional, it's one that our clients already heavily use to plan their wedding days.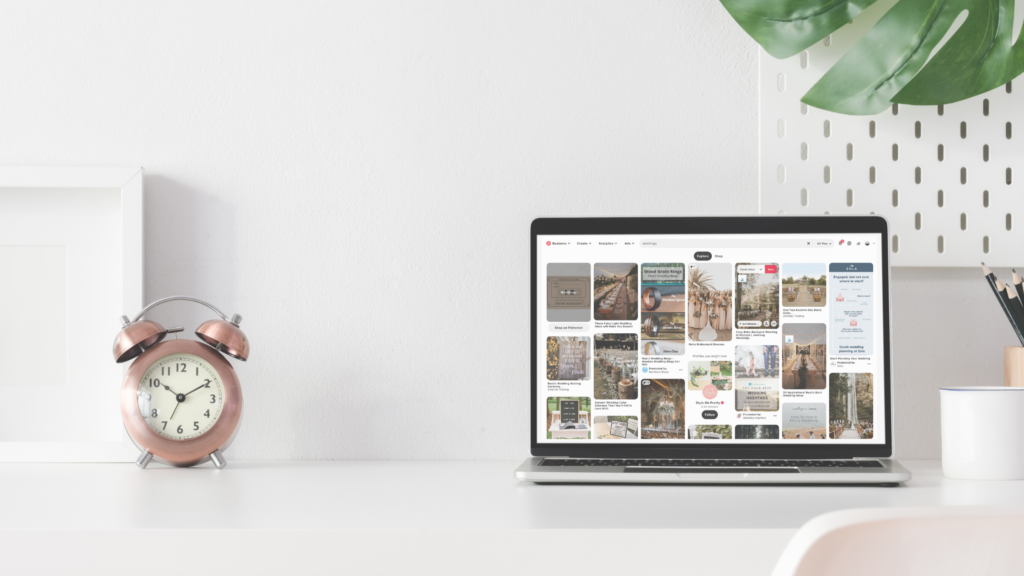 To effectively use Pinterest, you need a good website and content within that website to regularly share.  The easiest way to do this is to add a blog to your site. If you don't already have a blog, that may be a better place to start as you will increase your SEO/SEM in addition to creating some great content to share to both Pinterest AND your social media channels.
I have a few other posts that are super helpful for blogging, and next week I'll be sharing another for those of you who are just getting started with blogging and need some help figuring out WHAT to write about (so be sure you're on our email list to get a notification!).  In the meantime, get started thinking about HOW to write your posts, and how you can then use those posts to increase bookings.
Alright, now that we've covered the basics, let's get started on that Pinterest Strategy!
Create Your Pinterest Account
If you do not already have one, you need to create a Pinterest account for your business.  Pinterest has a great tutorial for this, so I'm not going to replicate it.  Just be sure that it IS a business account (don't try to use your personal account for this, we'll need those analytics). Be sure to follow through on claiming your website so that you can see things other pin from your site as well.
Create Some Boards
Pinterest boards are how we categorize and organize our pins. When setting up some boards, know that you will not just pin content ONE time to Pinterest, but you will pin it in several different places that are all relevant to the information you are sharing. Most of my weddings are pinned to 4-5 different boards (and I create several pins for each wedding).
Thinking ahead to how you will pin information can help you to create relevant boards.  You can continue to add new boards at any time, but this will help get us started.  Some easy boards might be based on season, location, or theme.
I regularly film weddings in 3 different states (boards for WV Weddings, Maryland Weddings, PA Weddings).  Within those states, there are several locations that I also film at regularly, so each of those also gets a board.  (Morgantown Weddings, Pittsburgh Weddings, Greenbrier Weddings).  I also do Destination Weddings, and quite a few Barn Weddings, so those get their own boards.  Vintage Weddings, Boho Weddings, Modern Weddings, Colorful Weddings.  If you have a lot of content, you can divide it up by color palette as well.  I also want to target couples who are actively planning their weddings and are focused on meaningful events, so I have boards for Wedding Vows, Wedding Planning Tips, and Wedding Inspiration.  I have another board just for my wedding films, another that syncs to my Instagram.
You can create board about every aspect of a wedding (Dresses, Stationery, Florals, etc).  If you are a vendor for any of those items, you'll want several categorized boards for each of them.
You can create as many as you like, but keep in mind is that the goal is to create boards where you can pin your own work to several different places.
Populate your Pinterest with Quality Content
Pinterest is not your personal website, and they don't want you to use the platform like it is.  Pinterest wants to see you not just creating and pinning your own content, but pinning and saving pins from others!
Personally, I prefer to repin other vendors that I frequently work with over content from strangers, so I start there. Find and follow your vendor friends.  Check out their boards and RePin their content to your relevant boards.  This isn't copying; it's helping them out while populating your own boards. I also like to pin any weddings I film that have been published in wedding magazines or featured on other wedding website.  Lastly, be sure to pin some great, high performing content from some larger publishers.
Create Your Own Pins
Now we start having fun.  Select one wedding to start with.  We need to create 4-5 pins for this wedding.  The easiest place to do this is Canva.  Canva contains tons of pre-made templates for Pinterest!  You can use the free account (although the paid account is SO worth it) if you like.  If you have a lot of images, you may choose to simply pin the image, but I like a good mix of images that have text in the pin itself.  I find these lead to more web traffic than images pinned on their own.
Just for Video Creators: Like to many other recent media forms, most Pins on Pinterest are vertical.  Wedding videos (for the most part) are vertical.  If you're using your own screen captures for blog images, it can be a challenge to find templates to accommodate this.  I'm sharing 4 of my favorite pins that use 1920 x 1080 sized image:
Pinterest Pins for Video Creators
Simply use these templates, insert your own images, text, and logo.  Customize the colors to match your brand, and you're all set! I always recommend networking with photographers and asking permission to use (and credit) their images in my blog post, social media, and on Pinterest, but sometimes that just doesn't happen.  If you are using images from another vendor in your own pins, make sure you have asked their permission and provide them credit in the pin description.
Schedule Your Pins
Now that we've created our pins, we need to get them on the platform.  Each pin we've created will be posted to 4-5 different boards, but you don't want to post them all at once or your feed will look like spam.
You can do this for free on the Pinterest platform.  If using Pinterest to schedule pins, my workflow is as follows:
Click Create Pin.  Upload my image, craft a keyword rich title and description, copy and paste the my specific web link to that wedding or post. Once I have everything just how I want it, click the 3 dots in the upper left and duplicate the pin as many times as needed for the boards where you would like to post it.
If you are stumped at how to write a keyword rich (but non spammy) title and description, this I found this webinar from the Rising Tide Society SUPER helpful.  It gives all kinds of tips and information on Pinterest.
Then click publish at a later date, select your date (again, there is an art to optimal times, which you can research on your own).  Choose which board this pin will go to and hit publish.  Repeat it with the duplicated pins, being sure to select different boards and times to publish.  I really spread mine out (like, at least 5 days between pinning the same pin) but you can make your own decision there.
Repeat this process for each pin.
Just for Video Creators: VIDEO PINS PERFORM!  Get your videos on Pinterest. I use both my sneak peeks, as well as my full highlight films for this.  Make sure that all of your vendor pals know that you will share videos for marketing purposes, just so long as you are credited.
The process for creating a video pin is the exact same as an image pin.  Videos must be coded h642 to upload, so be sure that you're exporting and sharing as such.
Pro Tip – Just use Tailwind for scheduling.  It is SO MUCH EASIER.  You can pin 100 pins for free, so even if you just use the free trial, it is so worth it.  After that, it is $15 a month.  For me, that is money well spent.
Let's Connect!
Alright folks, that is my workflow from start to finish!  If you use it to get started on your own Pinterest account, I'd love to hear some feedback on whether it was helpful for you, so pop back and leave a comment!  If you'd like to connect on Pinterest, let's do it!  Wedding Pros, follow me at WV MotionWorks, you know I always love repinning your content, which is extra views for both of us! If we've worked together and you need videos for pins, let me know. For more business tips, brand videos, and studio fun, follow along on my 304 Collective account.
Be sure that you're signed up for the 304 Collective mailing list.  I never ever spam you, and you don't want to miss next week's post on getting started with your blog!