Join us to celebrate the opening of our new studio space, see the renovations to the building, and explore space sharing and co-working options!
Sunday, Sept. 22, 2pm-4pm; 700 Morgantown Ave, Fairmont WV
RSVP to the Open House (inc. parking info and directions)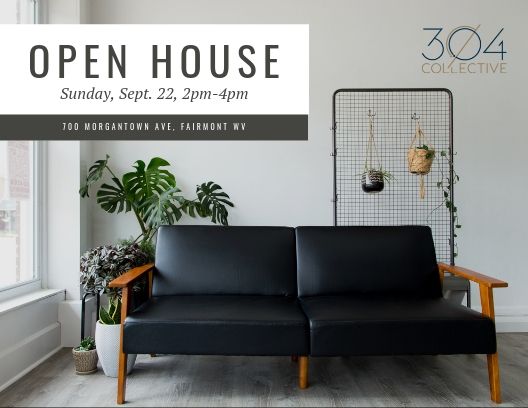 Shared Studio Space – Fairmont WV
We are super excited to begin sharing our new space with other creatives.  These semi-private spaces within our studio are perfect for photographers, graphic designers, web developers, wedding professionals, and many others.
These monthly rentals come with designated semi-private space and allow for use of the shared photo/workshop space, client meeting spaces, podcast/conference studio, secure storage, and darkroom use.  Rentals are all-inclusive (space, utilities, wifi, & basic cleaning) and allow 24/7 access to the space. Prices start at $400 per month.
We'd love to hear from you if you think our space might be a good fit for the next step in your business!
Co-Working in Fairmont WV
Life as a freelancer/working from home can feel lonely or aimless. We created a professional space for the mobile worker to get plugged in.
We offer a lounge area, perfect for meeting with clients or a casual workday, shared tablespace for collaboration, and desks for when you need to focus and get things done.
All co-working memberships come with complimentary water, coffee, and tea. We offer annual, memberships, along with monthly, weekly, and daily drop in rates.
Co-working hours are 9am-4pm, Monday -Friday
Contact us for a full brochure with details about our co-working options. 
Renovations to 700 Morgantown Ave
Working on the building has been just about the only thing we've done this summer.  Almost every spare moment we've had has been spent demolishing, rebuilding, painting, designing, and the 1001 little tasks that come with making an old space beautiful and function.  We didn't do it alone, and we want to take a minute to thank the people who have worked alongside us.
We hired Harris Company Builders to take on the especially difficult or skilled work.  They framed in the new rooms, hung the drywall, put down a nice strong and level subfloor, and tacked the puzzle of plumbing.  I can't recommend them highly enough.  They did great work, within our budget.  We also spent a considerable amount of time together and their team was polite and pleasant every day.
Chris's dad (Chuck Moran) has been there from day one.  Not only has he given us a mountain of valuable advice, but he has also been there working alongside us almost every day.  Of special note: the baseboards that were in the space don't really exist.  We had sections of wall that were missing baseboard, and of course, the new walls needed baseboard.  He cut new baseboards from 1×8 everywhere we needed it.  He also built a soffit to hide the unsightly water line, and has perfectly mitered just about every corner of trim in the building.
We also had several friends and family members who popped in to help when they could.  That means so much to us; for people to make time for us right in the middle of a busy summer season.  Kristian, Stacey, Cecelia – thanks!  Thanks also to Chris for loaning me her dolly/hand truck and saving my back from the many many boxes of flooring that I had to move all around, and to my mom, Debi, for gifting us a refrigerator.
I would love to stay in touch with you and keep you in the loop with renovations, news, and updates to our space.  Sign up for the 304 Collective newsletter to be the first to know what's happening!