One of the things we are going to do for 2021 is share a monthly themed photo inspiration.  These sets will be put together from items that we have at the studio and are available for use with any studio rental.
A common struggle among photographers is coming up with ideas for a shared space, especially if it's one you're new to using or unfamiliar with. We want to help – by sharing some of our favorite looks from around the studio.
Each set will have both a professional version and something more suitable for families/kids.  Use them to gain ideas for your own sessions in our space, taking the pieces you like to create something unique.  Or if you like the complete set up, just let us know, and we'll have it ready for you when you coming in!  (Small set up fee applies)
January Photo Inspiration – MidCentury Cozy


This set invokes warm and cozy colors and patterns.  Full of happy plants and rich colors, it works well for a professional or a family setting.
The Professional Look
We pulled in a clean white desk and one of our favorite chairs (we call it the Boss chair, and trust me, you feel like the boss when you're sitting in it!) and just a few details to personalize this work session: a pot of tea, our favorite notebooks, and a little bit of tech. A nice candle and a couple tiny plants round out the collection.








The Casual Look
For a more casual setting, great for kids, families, or couples, we rolled our a rug and brought in ALL the floor pillows.  Lounge together.  Read a book, listen to music, dream some dreams.
We added our favorite radio to the background (yes, it does work.  yes, you can play your favorite playlist via bluetooth during your session).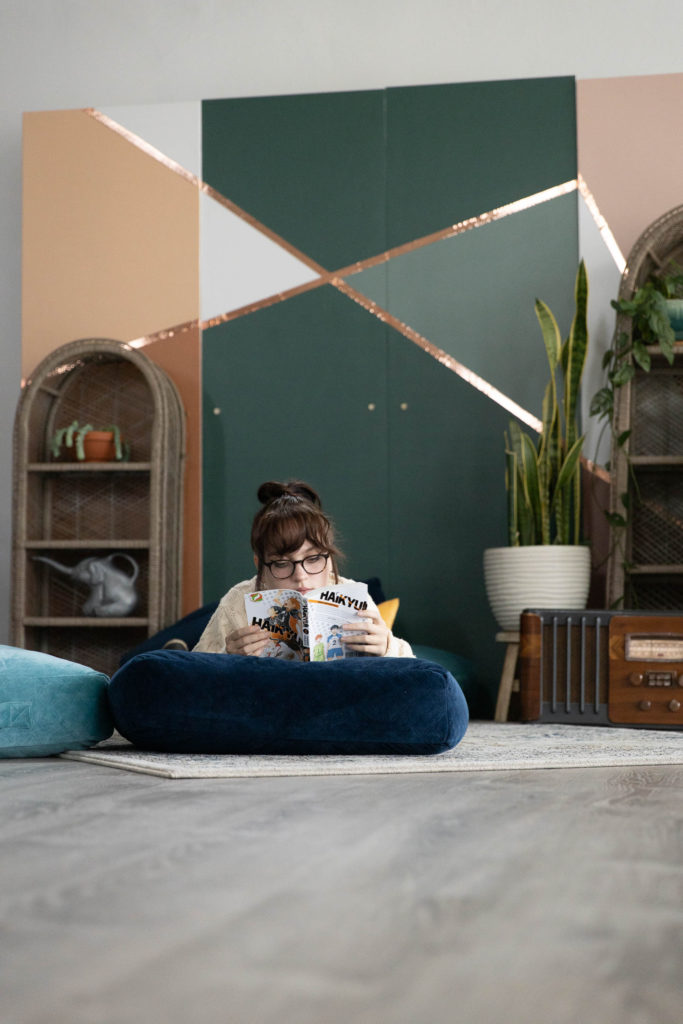 For both settings, those background details that you might never notice in your finished image help to create a finished scene.  They aren't the focus of your work, but they make it feel intentional and well rounded.  We gathered some of our favorite vintage items from around the studio, paired them with a couple of plants and put them on our arched wicker shelves (handed down through 3 generations of Chris's family) to make our studio feel like your home.
If you'd like to schedule time in our studio to use this set, let us know!  You can check out our rental rates and details, and we're happy to schedule a walk through if you'd like to see the space in person before using it for your session!
Our studio is conveniently located in Fairmont, WV, minutes from I79.