The Morgantown chapter of the Rising Tide Society gathered at the 304 Collective studio to talk branding this month.  We were grateful to have Abbey McGrew from Wayfarer Design Studio share some of her tips on how she helps clients define their brands.
You can download the entire guide over at the Rising Tide Society.
Branding for Creatives
First, Abbey helped define what branding really means for companies.  It's more than just your logo; branding is how people feel when interacting with your business.  From the images your business cards and print media to the words you use when posting on social media, your branding shapes the experience you want your clients to have.
One of the best ways to get started with your branding is to define your why, your who, and your how.  Sit down and develop your story of why you started your business (and continue to love doing it), who you are as an artist, and how you hope to serve your clients.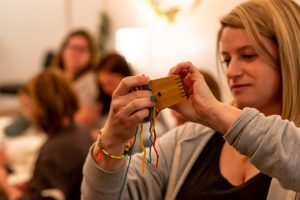 After our branding talk and Q & A, Megan with The Handcrafted Cooperative taught us how to make pom poms with yarn.  In between coordinating the September market with the Handcrafted Cooperative, Megan has been brainstorming a MAKESHOP to share craft skills with others.  It was so fun to learn something new from her!
Our September meeting is titled Protecting Your Business.  We'll talk about contracts, insurance, permits and licenses (date and location TBA).  Join our Facebook group to stay in the loop on meeting information.
Upcoming Events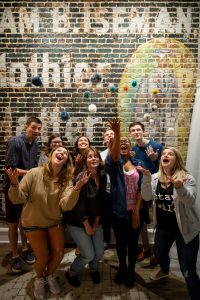 Caffeinated Creatives (every Wednesday) 8:30am-10:30am Joe n Throw.
August 16: Open House at the 304 Collective 5pm-7pm
August 27: Co-Working and Branding Brainstorm Session at the 304 Collective 9am-2pm
September 2 Handcrafted Cooperative @ The Morgantown Marketplace