The Modern Minimal Videographer Wedding guide is a simple, drag and drop template edited in Canva (a free online design program).  Most images have been formatted for horizontal images frequently exported from video.  All of the text is relevant and specific to video services.
Purchase the Modern Minimal Wedding Videographer Template








Print marketing is a hard medium for videographers.  Not only can we not share our products on a piece of paper, but print templates just don't exist for videographers.  Nonetheless, they are a valuable part of a marketing portfolio!
A couple of years ago, we evaluated the inquiry and booking statistics for our wedding brand.  We discovered that over half of our bookings from from referrals from other vendors!  First off, it's a HUGE compliment that other creative professionals realize the quality of your work and like working with you enough to refer you to their clients.  So we wanted to make it even easier for the venues and vendors we work with to share important information with potential clients.
As a videographer, I don't often work in Photoshop.  The first template I purchased for a print Wedding Guide was a Photoshop template.  I had to both learn the program, AND customize the guide.  It took me weeks to figure it out.  Two years later, when it came time to update the guide, I purchased an InDesign template.  InDesign was indeed easier, but I still had to learn a new program, and it took time.  Many other videographers don't even have these programs to use, since we don't often use either to edit videos!
I also ran into problems adapting the many guides that are designed for photographers.  None of the still frames we export for marketing use are vertical images, and many of the guides on the market contain ONLY vertical images.  This meant totally changing the layout on many of the pages.
Part of the reason I bought a template is because I'm *not* a designer.  The more I changed each page, the worse it looked. This guide is designed so that it requires very few changes.
All stock photography is included with this template.  We encourage you to export still frames from your films to customize, or ask your favorite photographers for permission to use their images (there's even a place to credit them, in the guide!) If you are new to the field and don't yet have the images you would like, you can use the stock images that are included.
In addition to common marketing pages like Price Lists, About, Reviews, and FAQ, we included a page about the importance of video.  This copy was created with the help of a professional copyrighter, and is a version of what we have used for years in our own guides.  It is proven to connect with couples.
"I wanted to tell you that I love your website and the guide you gave us.  After reading through it, I felt like I really knew you, and I knew what to expect on my wedding day.  This is something we didn't have with any of our other vendors" – Sarah C. (a MotionWorks bride)
Once you purchase this template, you can use it for years.  We ask that you not resell it, but you can edit it and update it anytime you need to, for the life of your company.
Once you've customized the template for your company, download the PDF.  You can email this to any potential clients or vendors.  We also recommend printing the guide (we use MagCloud) and using them at vendor shows, and supplying your favorite vendors and venues with a few copies to share!
"I'm not a videographer.  Can I still use this template?"
Absolutely!  You'll just need to edit the copy to match your specialty.  Just like we videographers do with almost every other piece of marketing material on the market.  🙂 Welcome to our world!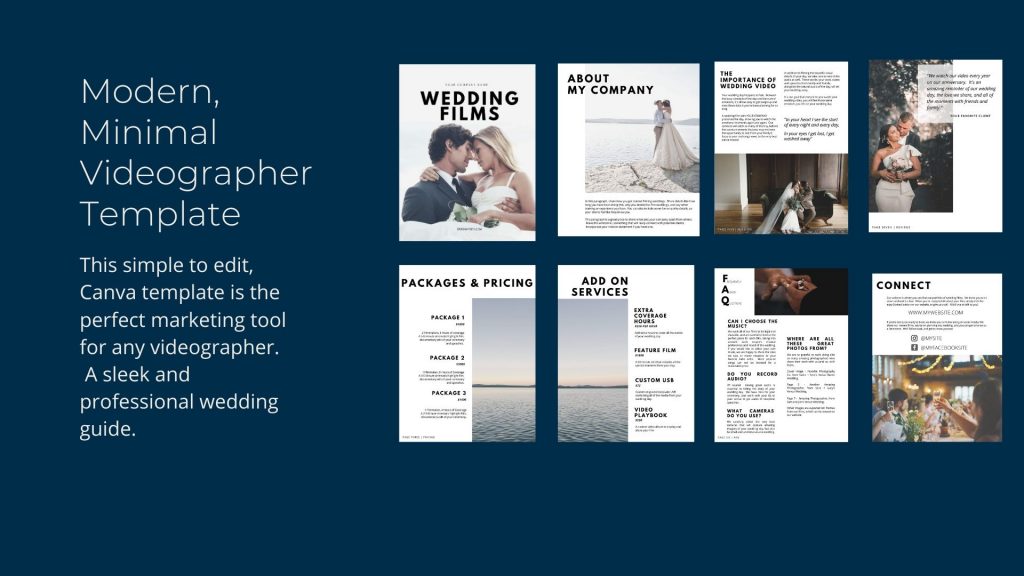 This year we'll continue to launch our templates created just for videographers!  Be sure to join the 304 Collective mailing list for news when new templates go live.  We're working on a few more styles of wedding guides, a client welcome guide, and some abbreviated pricing guides/rack cards.