In case you missed it, last week Instagram launched their newest addition: IGTV.  So let's catch you up.
IGTV is available both on the Instagram app and as a stand-alone app. You can publish from your computer (say whaaaa?) or your mobile and it is ONLY for vertical video.  It's also for long-form content; videos can be up to an hour long.  This is completely different from the 60-second video posts and 15-second stories that Instagram has allowed in the past.
So, what do we do with this?
Do Use IGTV
Kinda a no-brainer, but this is my first 'Do' for IGTV.  It's a great (free) opportunity, so don't disregard it.  Yes, it might be a fad (but also, it might not).  Yes, it comes with some inherent challenges.  Don't let that scare you.
The nice thing about being an early adopter is that right now, Instagram is really pushing this format.  Not everyone is using it, so they want to get content up there.  Currently, when new videos are published to IGTV, your followers will get a banner notification right at the top of their app.  They can't miss it! There aren't a lot of people using IGTV yet, so your notification will reach more of your followers.
Maybe it is just a fad.  Vertical video might find the same fate as the laserdisc or 8-track players.  It also might be the next generation of marketing, or even of narrative video.  I can't predict that, and really, neither can anyone else.  Decide how much time you're willing to invest in something that may or may not stick around, and get what you can from it while it is relevant.  Frankly, that's what we're all doing regardless of medium.
So get on it.  But do it well.
Don't Crop Horizontal Video for IGTV
I hate to say it, but don't take the existing traditional video you already have and just drop it in there, let Instagram crop the edges right off, and just post it.  Your logo will probably get cropped, any text you have will be illegible, and the framing will be all off.  Action will happen that takes place off the screen, people's faces will be cropped right down the middle, or perfectly centered people may end up looking like giant bodies with tiny heads because their shoulders have been cropped out.
However, there are a few ways you can repurpose your existing video content for IGTV.
2020 Update – IGTV now allows you to use your existing horizontal video and use it AS IS.  The video will rotate and fill the screen automatically.  No need to re-edit any content.  Vertical content will still perform better, but use what you've got!
The Holy Grail: Content Produced Specifically for IGTV.
This is, of course, the solution that will produce the best content.  It's also the most time intensive, difficult (those some issues we talked about with re-editing content will apply) and limited.  Right now, vertical video pretty much ONLY lives on IGTV (with limited use on SnapChat for shorter videos). For marketing use, this makes total sense. Vertical video provides production companies with one more product we can sell to the corporate market.
If your end user is NOT likely to watch the video your provide them in a vertical format (ie, all of my wedding clients) it makes no sense to film vertically.  In this instance, ALWAYS keep your eye on your end product and the satisfaction of your client rather than your own marketing materials.
If you can easily do both (ie, you have an assistant or extra shooter who usually only helps during busy times like a ceremony, who you can put to work filming vertically) or you're willing to pay the extra person to capture that during the event….AND your client is okay with the intrusion of one more person tagging along, then do that.
If not, styled shoots and other events put on directly to produce those marketing materials are great opportunities to create some vertical content just for IGTV.
Optimize your IGTV Channel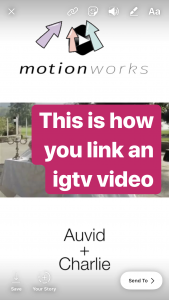 Just like any other Instagram post or story, use your hashtags.  Choose just a few for your caption.  Make your video title and caption engaging.
Once you've published your video, you can link to that video in your story!  Even accounts under 10k have the option to swipe to view IGTV content, so get yours linked up!   I also use a geotag and hashtag in that story.
If you don't yet have a super amazing awesome video to share on Instagram, get in touch with us to start the conversation about creating some content to share your story with your clients, friends, and family.
If you found this post helpful, be sure to sign up for our newsletter so you'll get all of our tips right in your inbox!