For the past year, I've been one of the leaders of a local chapter of the Rising Tide Society: Tuesdays Together Morgantown.  We are a group of creative entrepreneurs who meet on the 2nd Tuesday of each month to connect over a variety of business topics. I'm going to start providing a recap of our meetings, but I really hope to see you in person at a future meeting, because that is where the real connection happens! Download the full guide here: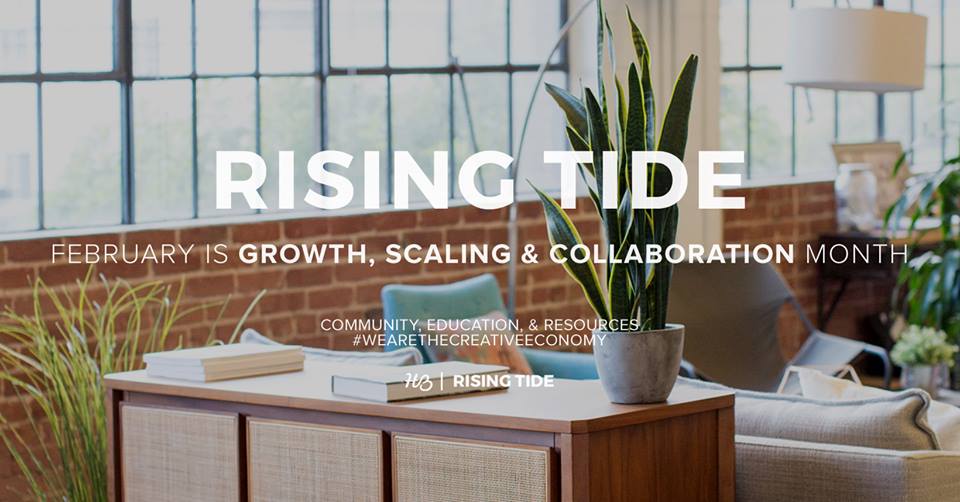 Growth & Scaling
This month we talked about some of the things that are holding us back in business, keeping us from growing further.
If you had a clone, what one business task would you hand off to never have to deal with again?
Through this icebreaker, we discovered that most of us share the same pain points: finances, social media, and editing.  As entrepreneurs, we spend the first few years in business bootstrapping by necessity: we simply don't have the funds to hire other people, so we learn to do things ourselves.  We then convince ourselves that we are the ONLY person that can complete these tasks.  Often, this is a total lie, and sometimes, we're not even the BEST person to complete these tasks.  But there comes a point when you stop and think:
I'm too busy to take on any more clients!
If this is your reality, it's time to sit down and example your workflow to discover which tasks associated with your business are actually keeping your business from growing.  It's a tedious process to sit down and make that list, but it's so important.  First, once you list every single task you take on from inquiry through product completion, you're going to feel like a superhero.  You do a LOT to keep that business happening.
But then, you can begin to sort through those tasks.  All of the tasks that are repetitive are ones that you can automate.  The tasks that are hugely time consuming, you can consider outsourcing, particularly if that task is one that you do not love or are not overly good at.  Chris and I are very open that one of the very first things we outsourced upon starting our business was our accounting.  We have an amazing CPA and the money we pay for that service is so worth both the time and stress that she saves us every year.  (Dorinda Kisner is who we use, if you're looking to make a connection with a trusted professional).
As far as outsourcing goes, if it is a thing that can be done, you can pay someone else to do it.  Sometimes, even better or more efficiently than you can do yourself.  We have an amazing graphics person who does almost all of our motion graphics, in a fraction of the time we could ever do it on our own.  This means less stress for us and a faster project completion with a superior product for our clients.
Task Automation
For all of those little things that you find yourself doing over and over, automation can be an easy step to saving time and allowing your business to grow.  There are a billion and one business tools out there that can help you to automate tasks, from email schedulers to custom signature, but hands down what made a difference in our business in 2017 was a client management system: Honeybook.
Before I even get into automation, I will say that Honeybook is a huge timesaver for my client and project organization in general.  I keep an organized inbox and fully synced up to date calendar, but it's still time-consuming to search that inbox for previous responses, contracts, questionnaires, etc.  With Honeybook, everything associated with a client is automatically organized in one project file, that I'm one click away from on my phone or any computer.
The project pipeline is organized that I can tell at a glance how many inquiries I have out, how many booked projects I'm planning, how many are in my editing queue, and how many I've completed and delivered.  I've customized my pipeline to match my workflow.
Now, for automation.  I'm still a *bit* of a control freak, and all of my automations are launched upon my approval.  That means that log in each day and click a button by each scheduled task to execute it.  I could choose to have them happen without my approval….but….this is my preference, and I love that I have that option.  I also don't have to remember that these things need to happen or craft the responses that I need to send.
I have a nice file of email templates that I've written, all of my brochures are wonderfully laid out, all of my proposals and contracts are exactly as I want them to be, each time.  No room for human error when composing or duplicating a legal document!
I simply funnel all of my inquiries through my Honeybook lead collection (either the client enters it on my website, or I do it manually).  Honeybook will check my calendar, populate all of the fields with the client info, and I'm one click away from getting a brochure in their hands.  From there, my client is one click away from product selection. Once a product is selected, Honeybook automatically populates a proposal and contract, then the client received a contract that allows them to sign and pay immediately, online.  All of these things can also be done manually for clients that prefer in-person meetings or phone consults.
It also means that none of my inquiries drop through the cracks because I got too busy or forgot to follow up.  My clients don't miss any payments because Honeybook automatically sends a polite reminder when a payment is due.
The hardest part of any client management system is the setup.  It takes time to input all of your existing emails, brochures, contracts, and clients.  You've got to use the platform for a few months to even know if it's going to work for you.  My favorite part about Honeybook is that they have an onboarding team who will do the bulk of this work for you!  You simply send them what you have, then they'll set up your account.  In 2016 we spent months researching different management systems.  We selected one, spent the time setting it up, and we struggled to use it for two months.
Management systems are like shoes or cameras….there's no perfect fit for the same two people, and you just can't know what's right for you until you've tried it out.
So when we signed on to Honeybook, we were already feeling a bit jaded and downtrodden about the whole process.  I was really skeptical and just sent them a whole bunch of PDFs, then watched some of their Honeybook tutorial videos while I waited.
I know you want to hear about the bottom line.  The bottom line is – it's totally worth it. No, it's not free, but just like my CPA, worth every cent.  Payments made through Honeybook are processed through Stripe, there is a 3% processing fee for credit cards and a 1.5% fee for bank transfers.  New users get a two week free trial (free, free, as in you don't have to even put in a credit card, nothing to cancel or remove if it's not for you).  After that, they have packages for as low as $34 a month.
Plus, I can get you 50% off of your first year!  So yay for discounts! Just follow the link to get started today!

If you're still not sure and would like to see how I use Honeybook in person, stop by the studio any Monday during our co-working event and I'm happy to show you what the dashboard looks like, all of the options, and how I use Honeybook to automate tasks in my business.
Collaboration
Collaboration really speaks to the heart of what our Tuesdays Together group and the Rising Tide Society as a whole is all about.  It is our hope to cultivate a society of creative entrepreneurs who believe in community over competition.  Inspired by the John F. Kennedy quote "A rising tide lifts all boats" we hope to become better, together.



In the past, we've worked together on fun events like an Instagram Flat Lay Session and Headshot Swaps.  In March, both the Morgantown and Clarksburg groups will collaborate on a styled shoot.  We hope to incorporate several different settings to feature both a couple and family/kids, so that all of our makers and creators will have an opportunity to feature their skills or products in the shoot.
Our next meeting will be March 13 (location TBA).  Our March Topic will be "Accounting & Finances: Tax Prep" with guest speaker Beverly Ryan from NorthStar Accounting & Tax Services.  We've got a great line up of topics for the year, and we'd love to see you at one of them!